DK Healthcare, acquires ISO 37301
PAGE INFORMATION

NAME
GIC
COMMENT
0
VIEW
1,557TIME
DATE

21-08-10 09:13
CONTENT
DK Healthcare, acquires industry's first Compliance Management Systems
(ISO 37301 Certification)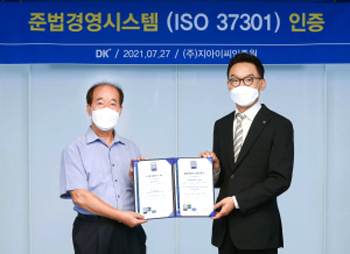 DK Healthcare acquires the healthcare industry's first to obtain international standard certification
for compliance management systems./Photo=provided by DK Healthcare
DK Healthcare, a medical video equipment specialized company, acquired ISO 37301, an international standard certification about compliance management systems, for the first time in the healthcare industry on the 27th July.
ISO 37301 is a compliance management system officially enacted by the International Organization for Standardization (ISO) after an international society's agreement in April.
The company that acquired this certification be demanded the establishment and maintenance of a compliance management system in the organization to comply with the organization's governance, industry conventions and related laws.
By obtaining ISO 37301 certification, DK Healthcare has been recognized for its efforts for compliance management fitted with the principles of management of ESG (Environmental, Social Responsibility, and Governance Improvement), which has recently become a hot topic in the industry.
Earlier this year, DK Medical Solution and DK Medical System were certified as the Anti-bribery management system (ISO 37001).
And DK whole affiliate established a transparent management system to prevent the factor of occurred accidents, laying the foundation that can grow with competitive in the healthcare industry.
"DK whole affiliate, which has been leading the development of the video medicine medical device industry in Korea through diagnostic medical device manufacturing and distribution for 30 years, is continuing to work on for ethics and compliance management according to a social movement that company's socially responsible is valued," and "We will more reinforce the compliance management according to international standards requirements and will be the company that leads ESG management in the healthcare industry." said Lee Joon-hyuk, CEO of DK Healthcare.
Meanwhile, DK's whole affiliates greatly improved their work environment sharply through remodeling their offices earlier this year.
By actively reflecting the opinions of the employees, the lounge was created like a hotel cafe, and enough collaboration space and autonomous workspace were prepared to increase the opportunity for executives and employees of all affiliates to communicate together.
Also working hard for ESG management by providing individual tumblers and eliminating all disposable cups in the company.
전혜영 헬스조선 기자 hyeyoung@chosun.com
[ 출처 ]
헬스조선 (https://health.chosun.com)
(기사 원본) https://health.chosun.com/site/data/html_dir/2021/07/28/2021072800643.html
LIST OF COMMENTS
NO COMMENTS HAVE BEEN REGISTERED.